Family photoshoots can be a bit of an embarrassing disaster. The kids are usually screaming, parents are stressed out and everyone just trying to get through it all in one go! But what if I told you there was actually a way for this shoot-to turn into fun? A family outdoor photo session will allow the whole group sits back with their cameras as they get some much-needed relaxation time together without any distractions or stress – making memories forever at each location that we choose.
Here are some tips to make the most of your outdoor family photoshoot:
1. Choose a location that everyone is familiar with and has fond memories of – perhaps one that you have all visited before or even somewhere new, but exciting. This will help create a relaxed atmosphere and make it easier for everyone to get comfortable. Also, think of activities that can be done as part of the photoshoot to make it even more fun.
2. Schedule your outdoor family photo shoot in advance so everyone is prepared and ready for the big day. You want everyone to be relaxed and look their best, after all! Try taking some practice shots at home beforehand so you can get a feel for how the photos will turn out.
3. Keep it natural and fun! Don't be afraid to let loose and can do silly poses or activities that everyone enjoys doing together. This will help create unique memories and make the photoshoot even more enjoyable for all involved.
4. Make sure everyone is dressed comfortably as you don't want anyone to be distracted by their clothing. Keep it casual but make sure everyone has bright, colorful, and coordinating outfits that will help the photos POP!
5. Don't forget to bring props that can add a unique flair to the photo – think fun hats, scarves or wacky signs that you can use to make everyone smile.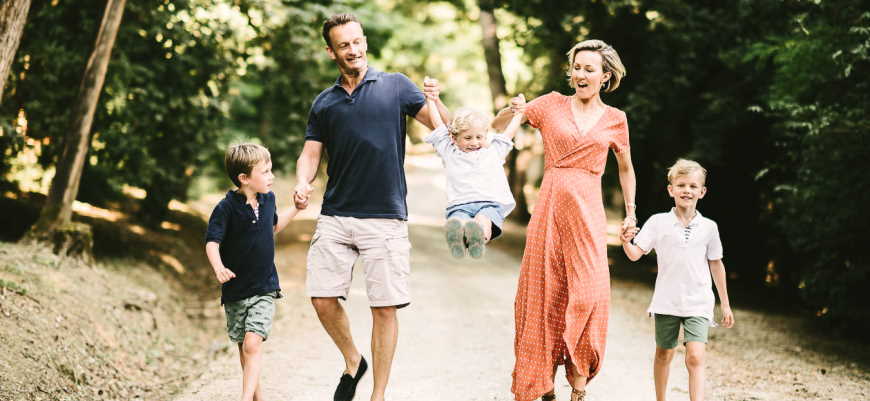 What to Wear in an Outdoor Family Photoshoot?
When planning what to wear for an outdoor family photoshoot, there are a few things to keep in mind. For most outdoor shoots, you'll want to try and coordinate the colors of your outfits. Avoid wearing matching clothes or anything too trendy or busy-looking.
You also need to consider the environment where the photos will be taken – remember, you want to make sure that the clothing you choose complements the natural surroundings and won't detract from it.
If you're going for a more classic look, opt for solid colors like navy, beige or gray. If you'd prefer something more vibrant, go for subtle shades of pink, yellow or blue. You can also mix and match patterns, like stripes, plaid or polka dots. For ladies, long-sleeved dresses tend to be more photogenic than tank tops or t-shirts.
When it comes to shoes, avoid sneakers – they look too casual in photos. Instead, opt for dressy flats or sandals in neutral colors. For the men, dress pants and long-sleeved collared shirts are usually best.
Finally, don't forget accessories! Wearing hats or scarves can add texture and interest to your photos. And if you're having a fall photoshoot, don't be afraid to break out the cozy sweaters and scarves for a classic look.